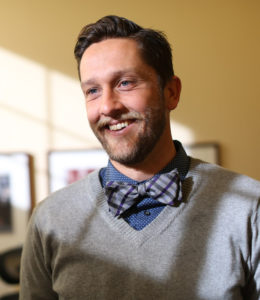 Joshua M. George
Of Counsel
jgeorge@rbwaterlaw.com
805.543.0297
Joshua M. George is of counsel to Robins Borghei LLP and is a partner with Adamski Moroski Madden Cumberland & Green LLP.  The main focus of his practice is business litigation, personal injury, real property litigation and public entity defense.  In addition to his private clients, he represents cities and other public entities throughout San Luis Obispo and Santa Barbara counties in a wide variety of litigation matters.
Josh successfully defended the City of San Luis Obispo against a multimillion dollar claim made by a contractor in a matter arising out of the construction of improvements at the City's water reclamation facility.  He has also represented cities and other local government entities in numerous personal injury, employment and construction claims.  His private litigation practice covers similar areas and also includes real property and contract matters.  He serves as Assistant District Counsel for the Santa Maria Public Airport District and the Cambria Community Health Care District.
During law school, Josh clerked at the firm of Andre, Morris & Buttery in San Luis Obispo, working primarily in their civil litigation department. He also interned with the Sacramento and San Luis Obispo County District Attorney's offices and served on the McGeorge Law Review.  After passing the bar in 2006, Josh was hired as an associate attorney at Cumberland, Coates & Duenow LLP where he began his current practice.  He joined Adamski Moroski Madden Cumberland & Green LLP in 2009.
Josh is married, has two children and resides in San Luis Obispo.
Other Highlights:
Josh has a Bachelor of Arts (Agribusiness), California Polytechnic State University, San Luis Obispo, and a Juris Doctor, University of the Pacific, McGeorge School of Law.
He is currently the President of the San Luis Obispo County Bar Association and a member of the Board of Directors for the San Luis Obispo Lawyer Referral & Information Service.
Josh is admitted to practice in all courts of the State of California and United States District Courts, Northern, Eastern and Central Districts of California.